First Week Of F1 2021 Our Favourite Community Moments
One week ago, the latest iteration of the Formula 1 game, F1 2021, launched worldwide. With loads of new features and more ways to enjoy the game than ever before, it's sure to be a mainstay in our lives for the next year. Forming the basis of our 2021 Pro Championship, F1 2021 is super-important to F1 Esports. But first, we need a few lessons in how to play the game, and how not to…
With that in mind, let's take a quick look at how racers have been playing the game so far – including some world-class overtakes, funny moments, and epic fails!
To The Fan Zone
First up, we took over the Esports area of the Fan Zone in Silverstone, where a sold-out capacity crowd rejoiced in the sun for a memorable weekend of racing. With 16 gaming rigs running F1 2021, the Fan Zone provided the perfect showcase for the launch of the game worldwide, on Friday July 16.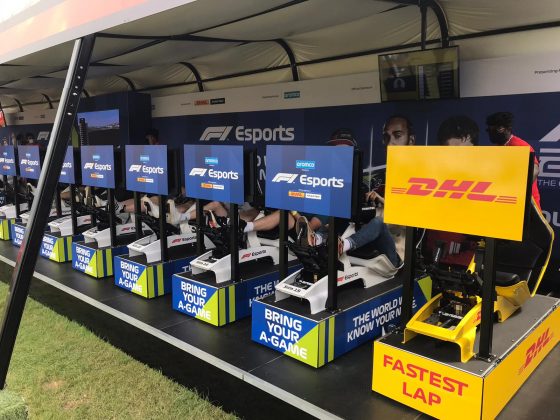 With dozens of races every day in front of the onlooking crowd, it was a chance for many to show off their skills and compete to win some awesome merch. And if that wasn't for you, the F1 2021 area gave people the opportunity to race 1v1 on controllers for a more relaxed setting. Add to that the dazzling F1 2021-liveried car, and you have the perfect backdrop to the game!
Old Pits, Bro!
Twitter user and Twitch partner JDenman9 took a detour during a multiplayer Sprint Race at Silverstone, accidentally turning into the pits out of Woodcote, instead of the new ones between Vale and Abbey. Maybe it would've worked in F1 2010…
Alpine Felipe
Speaking of Abbey, Twitter user Matthew Karagich had a rather unique obstacle during some laps in Bahrain, when his cat perched atop his PS4. If I fits, I sits, right?
Tips From The Champ
Jarno Opmeer knows a thing or two about going fast in F1! The reigning champion has gone through all the settings he uses to get the absolute maximum out of his experience. Remember though, that what works for Jarno might not necessarily suit your driving style! He's also promised via social media that he'll be sharing his car setups for each track, in due course.
Did a Full 180
Alfie had a brown-trouser moment while negotiating a slippery Blanchimont corner at Spa during a Braking Point race, coming perilously close to smashing his Williams into the inside wall. But with some quick braking and steering just at the right time, he managed to save the slide, and just possibly, Casper Akkerman's race.
Oh no, no!
One thing we don't see too often is the expiry of a Mercedes power unit, but that's just what Darien (NASCARUTFan on Twitter) saw whilst touring Bahrain. Lightning reflexes helped him avoid Bottas' smoking W12 however, and he moved up into the lead. Nice work.
No Heroics Into Sainte Devote Please
Anyone who has ever raced around Monaco has ended up in the barrier. It's inevitable – at some point, it is going to happen. Alex Cox found that out the hard way during a 25% lap race, in which an omnishambles of wall-rides collisions and crashes resulted in one of the most chaotic first laps since… well, last weekend!
And speaking of Sainte Devote, our old friend Ben Daly AKA Tiametmarduk got a very 'special' reminder of that fated corner when he loaded up his game…
UnSafety Car
User Camodo Gaming had a somewhat unfortunate indicent in which the Mercedes-AMG Safety Car didn't quite live up to its name, causing a pretty significant incident in the process.
The Last Air(brush)bender
Justin, AKA trvprical, came up with this awesome throwback helmet, paying homage to Aang from the cartoon Avatar: The Last Airbender. We'll report back with findings on whether this design creates more downforce.
I Have Balls, But None Of Them Are Crystal
Sootie managed to perfectly predict the future, when he pre-empted Turn 1 chaos during a race at the Red Bull Ring. With the top two spinning out, the lead was his for the taking. gg ez!
What has been your stand-out moment on F1 2021 so far? Tag your videos and photos with #F12021 on social, and we might just feature them next time!
F1 2021 is available worldwide, for PC, PlayStation 4 and PlayStation 5, and the Xbox One S/X and Xbox Series X. Click here to get your copy!
The post First Week of F1 2021: Our Favourite Community Moments! appeared first on F1Esports News.
Read More
Gamble Now